MAnhattan Disinfection Services

CSA has been providing specialized cleaning & disinfection services for many of the Fortune 500 companies and governmental agencies in the New York Metro area. We are currently providing our COVID-19 disinfection services to the Port Washington Fire Department for all their apparatus as well as truck rooms and other facilities.
Please take a moment to review our COVID-19 Disinfection Services below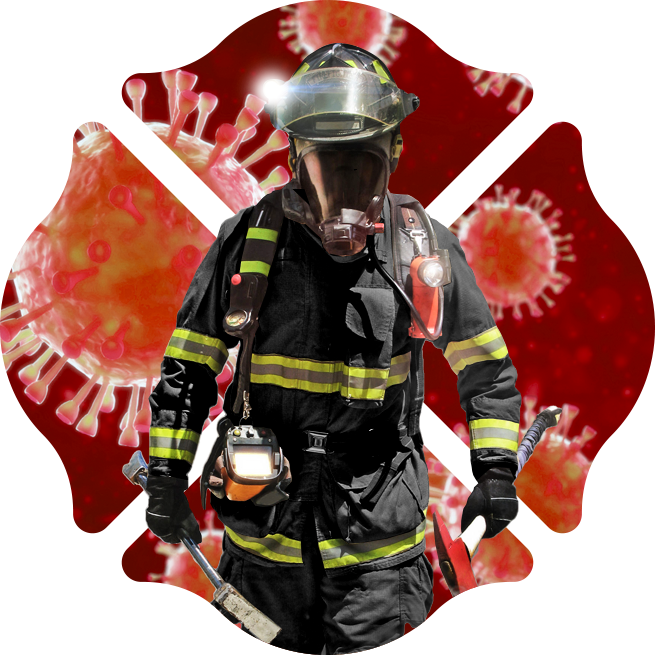 CSA strictly follows CDC – National Institutes of Health, EPA & NYS Dept. of Health in Disinfection Protocols

CSA is registered and approved with NYC Health & Hospitals Corp. as a Service Provider

CSA is registered and approved with the NYC Business Integrity Commission as a Service Provider
Disinfection Services NYC
Apparatus
Entire Crew Cab – All touch points, SCBA's, radios, flashlights, thermal cameras, meters and all associated equipment
Steering Wheel, switches, seating, A/C vents, glass, ceiling, grab handles, doors, floors and steps
Additional Force – Multiplier disinfection by hand of all SCBA face masks, regulator hoses and air gauge assemblies, straps, connectors and seats belts connections
Interior Compartment Small-X All – All tools, equipment and supplies
Apparatus Exterior – Additional Force-multiplier disinfection by hand of all handles, bumper and tools and equipment
TRUCK ROOM
Sign-in Desk – Computers, printers, phone, radios, inboxes, binders, drawers (in and out), all walls to 10ft high, all doors – interior and exterior, overhead apparatus room doors – interior and exterior, map station, bulletin board, water fountain coolers, hand sanitizer station, eyewash station, SCBA compressor racks bay, janitors closet, company points glass cabinet, trash cans, all light switches, entire floor, all bunker gear and racks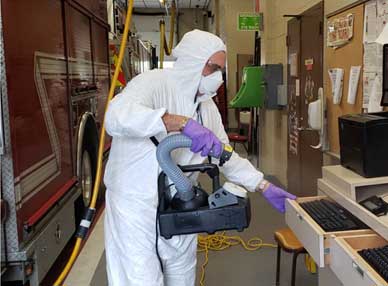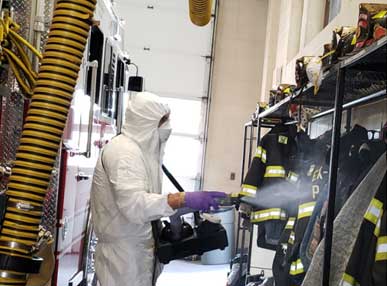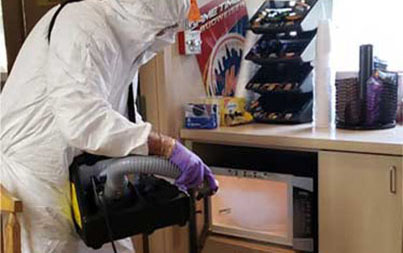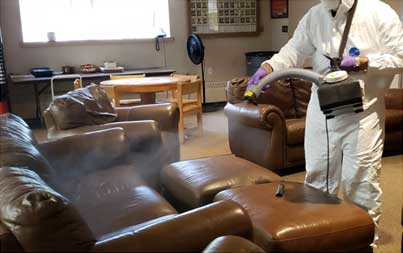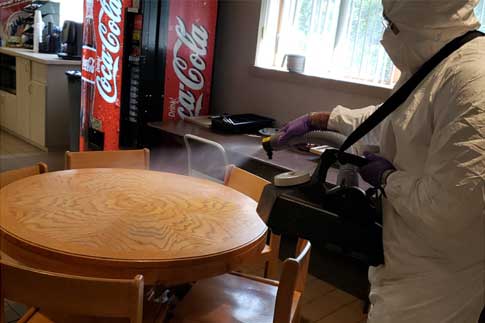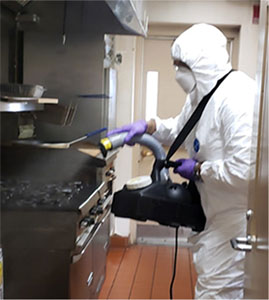 BREAK ROOM
All upholstery seating, tables and chairs, tv remotes, A/C console, mirrors, millwork and wet sink areas and cabinet drawers fronts
Captains, lieutenants & Engineers offices
All computers, desk printers, phones, radios, inboxes, blinders, drawers (in and out), seating and carpeting, walls, doors, mini sink area, conference table, credenzas, hand sanitizer station, A/V equipment, light switches, HVAC panels and water fountain
Rest Rooms
All fixtures, toilets, urinals, sinks, partitions, dispensers, showers, all light switches, trash cans, mirrors, walls, doors and floors

Steri-Fab Protects and Disinfects
Steri-Fab non-residual spray deodorizes as it disinfects and is the only EPA registered disinfectant and insecticide in one product. Steri-Fab is presisely engineered to kill viruses, fungus, mold and mildew. Plus, it not only kills germs and disinfects, but also eradicates pathogenic oders. Steri-Fab destorys micobes at the cellular level and hinders their basic metobolic functions. Steri-Fab is widely used in schools, college dormitories, hospitals, emergency rooms and on ambulances. It is also safe enough to use at home, in a verterinarian's office, in hotels, hospitals and more.
Coronavirus Cleaning and Disinfection Services Request